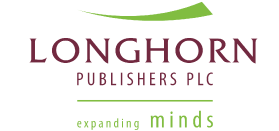 COMPANY DESCRIPTION
Since it's listing in 2012, on the alternative market segment (AIMS) segment of the NSE, Longhorn has embarked on various initiatives whose ultimate objective is to democratize knowledge by taking the lead in offering various innovative learning solutions. With the changing demands and needs of the publishing market Longhorn Publishers has had to adapt to both stay ahead of the market while anticipating market needs and respond to consistently changing market needs.
Longhorn Publishers was the first publisher to fully digitize all titles and make them available on various platforms like Worldreader, eKitabu, Kytabu, and Amazon. We have recently signed a deal (Smart Learner) with Samsung East Africa to deliver eBooks pre-loaded in the Samsung Tablets to be distributed to schools in Kenya, Uganda and Tanzania via Longhorn's platform.
The Company is also developing its own proprietary e-learning platforms in order to continue to offer choice, variety and convenience to our consumers. In order to respond to and engage with our customers more directly in an increasingly interactive market, Longhorn Publishers maintains an active presence on the internet and on various social media platforms.
Address:
Longhorn Publishers PLC, Funzi Road, Industrial Area, Nairobi, Kenya.
This content is locked
Login To Unlock The Content!
Nairobi Securities Exchange – NSE

COMMERCIAL AND SERVICES INDUSTRY